Meier Winery
Tim and Pamela Meier started with a plot of land north of Graysville in 2001. It's a densely beautiful backdrop for their retirement endeavors. Between them they had raised their ten children and relinquished life careers for something new, exciting, and different. The next phase of their lives began a few years ago and makes up a wonderful story about two terrific people who shared a dream. On Memorial Day weekend, 2019 Tim and Pam opened their doors at Meier Winery & Vinyard, a unique to our area business and just the opening scene to their dream.
I recently visited and a
brief jaunt up a hilly country driveway o
ff Hwy. 63 led me through an aromatic, woody canopy. The scene opened up and my focus was drawn to a simple 2-story cabin, fronted by a lovely garden-seating area. Greeting me on arrival was sweet, blue-brindled family pup Cara. I was warmly welcomed inside by the owners who gave me a few minutes to take everything in. The colorful and artfully infused décor of the indoor café, with the hand-made bar, and all manner of items for sale by local artists and crafters enhanced the rustic charm. The outdoor beauty spreads away on all sides, from the rock paths and tables, where groups can make delicious memories, to the surrounding forest. The ambience is warm sense of 'away from it all'. Although this is not typical wine country, these local vintners received guidance and experiential help early in designing their business, and to ensure success here in corn and soybean country. In a few short years they have created an extensive menu of dry, but mostly sweet wines and sangrias made in-house using their own processes and exclusive recipes. Now they join other successful small businesses in Graysville and are returning to full operation inside and out.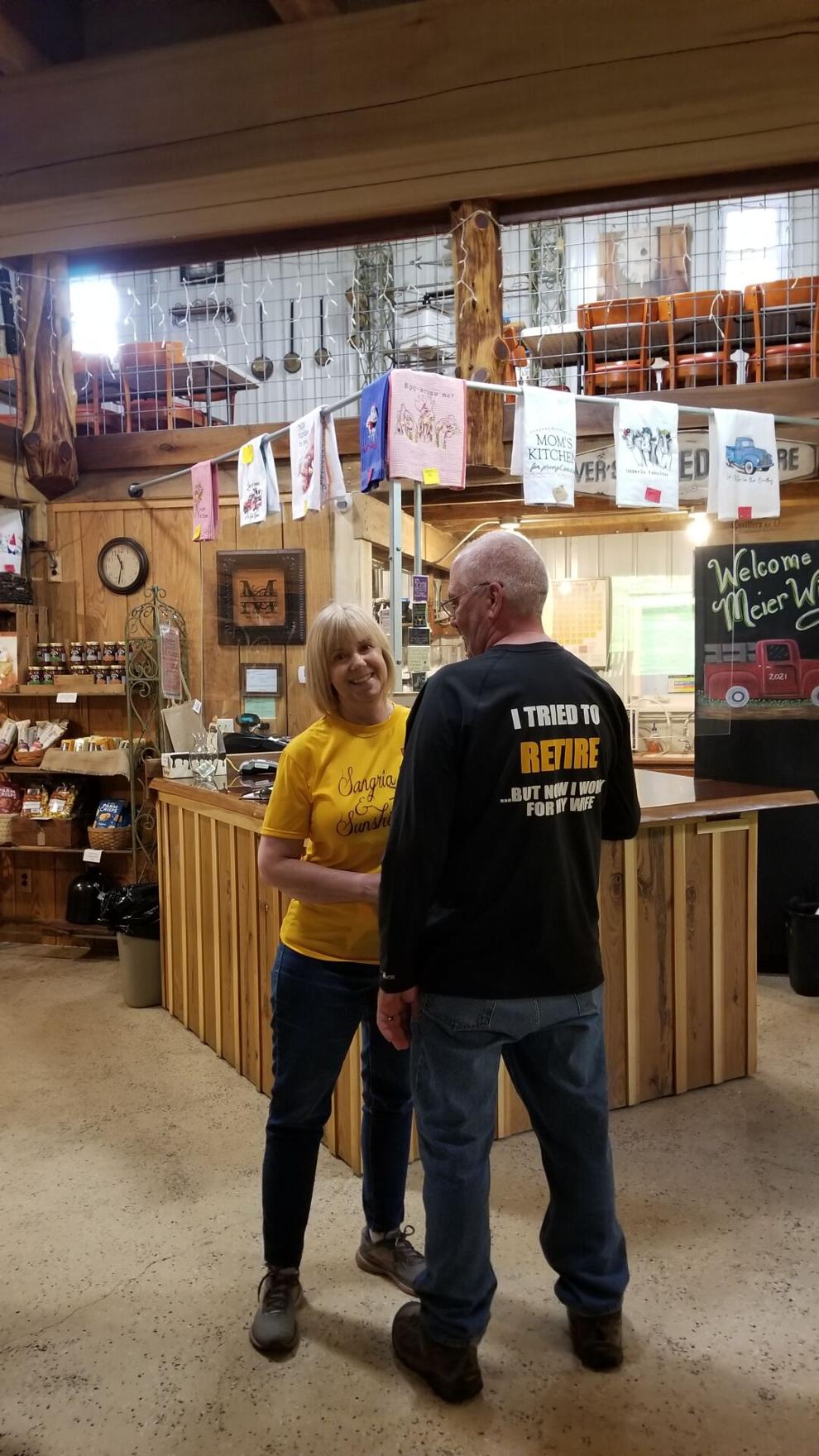 As the staff base of operation Tim and Pam's workdays run 14 to 16 hours. Son Jack has joined them full-time, putting the focus on family business. Twelve part-timers do everything from stocking to serving and cleaning to bottling and selling the wine. Loving what they do, Tim and Pam continue to develop new wines, and in the future will be partnering with their son in the craft beer specialty market and opening a store on the Sullivan square.
Not every Meier wine is available year-round, some are seasonal, and some are theme wines. The "Mad Mary" and Wine Slushy are the Meiers' version of the Bloody Mary and an adult frozen slushy that is yummy but not as sweet as the non-alcoholic blue raspberry always on hand for kids. The "Wine Scream" is an ice cream sundae! Oh my goodness, wine and ice-cream lovers rejoice!!!
To complement any beverage choice, DeWig meats, Troyer cheeses, curds, spreads, and crackers are carried for that essential craving. The seating area outdoors is perfect for a picnic or gathering around the firepit on a cool evening. Brownies or the makings for S'mores would be perfect with your girlfriends, best buds, or family. The Meiers want their visitors to enjoy a delicious and delightful experience away from home without traveling too far.
Happily – events are returning to Meier Winery & Vinyard. Tim and Pam are bringing back live music performances, vendor opps and Dee's Food Buggy. A vendor 'fair' and music venue will be offered once a month through the summer, carrying on a tradition the Meiers started before the pandemic and shutdown. Additions to the complex are in the planning stages, such as a cooking shack for Tim and additional outdoor seating, both of a certain design that will be unique and entertaining.
Soon they'll be offering samples of their frozen slushies, wines and sangrias, and bottles for sale at the Merom Chautauqua Friday through Sunday, June 4th through 6th. Something tells me they are going to be very popular! Meanwhile we can all show support for another local business and visit Meier Winery. You'll enjoy the wine tasting and getting to know the creators at the same time. Bring family and friends along and make it a memorable outdoor experience. Don't forget to pick up a wine list, as you can see I was marking wines to taste before I remembered to take a photo of it.
Watch Meier Winery Facebook posts for announcements. New operating hours are Thursday thru Saturday noon to 9 pm and Sunday noon to 6 pm. The winery is closed for business Monday through Wednesday, after all, the Meiers have to have some time to catch up.